The strike of a match. The light of a candle.
Scent that slowly rises. Shuffling your favourite deck until the moment is right. The draw of the cards. Dropping the needle on an old LP. Sweet ritual.
shy wolf is a magic-evoking candle company, that welcomes sacred moments of light for the observant, diverse and world shifters.
With a name inspired by the duality that lives within us all, we believe that the small pause that lighting your candle brings is worth honouring; how a small action brings forth a steady, warm light. With fragrance blends as diverse as the folks who burn them, our candles were made for both quiet, sacred moments alone and cozy gatherings with the ones you love most.
Our Story
Candles evoke the sacred. Fire is part of nature but also apart from nature, just as we are. There's something so innately human about a flickering flame, because it burns like the inner longings that we all have within us.
Tucked away in the village of Grey Highlands, Ontario, our studio is surrounded by an empire of forest fed by the waters of the Saugeen. Moved by the raw beauty of our surroundings, we hand-pour each candle in the historic building we call home. They're sustainably crafted with soy wax, cotton wicks, and a custom blend of natural scents inspired by classic rock and tarot cards. 
We invite you to light your favourite candle and retreat into your favourite nook, like a wolf coming home to its den. And just like the wolves, you'll know when it's time to tend to your inner fire… and connect to the wilderness within.
★★★★★

shy wolf candles quickly became my favorite candles ever. I know it's impossible to buy a candle that will solve all your problems, but shy wolf candles legitimately help me unwind, and de-stress.

Jeffrey D.

Los Angeles, CA
★★★★★

I've been a long time candle person, but since I stumbled across shy wolf a few years ago I now buy exclusively shy wolf for candles.

Jen C.

@JCronin.mua
★★★★★

You have become much more to me than just candles or a warm scent in my home. You are part of my self care routine, my rituals and my wellness as a whole.

Jaime M.

@Thrashjams
★★★★★

Ever since I found Shy Wolf candles I have been OBSESSED with them. The names of the candles are perfect and the scents are absolutely beautiful.

Anna P.

@banananotes
★★★★★

I have a shocking amount of shy wolf candles. The authenticity of the brand has always resonated with me, which helps justify the money I spend on them!

Victoria B.

@Msbutler21
★★★★★

shy wolf is the only indie candle brand I have actually committed to! I love the calm vibe they give my home when burning them.

Carlie G.

@Carlie.does.nails
★★★★★

I collect shy wolf candles. I burn the candle of whichever tarot I want the energy from. They've helped me a lot on my spiritual and mental health journey.

Ry M.

@Officiallyry
★★★★★

I have been obsessed with shy wolf for years! Absolute favorite candles and I usually burn one or two every evening. The subscription box literally brought me the most joy this winter.

Alison S.

@Alisonsharp
★★★★★

shy wolf candles bring so much to my studio practice. The Hermit and High Priestess are in near-constant use and are part of making my studio practice feel like a sacred ritual.

Erica H.

@erica_helder
In October of 2019, I started shy wolf candles out of my kitchen where I'd melt and mix very small batches of wax and fragrance in a pot on my stove. Fast forward a few years, and I've been joined by the best team I could ever imagine, where we pour and package thousands of candles in our rural Ontario studio and ship them around the world. I've never forgotten our humble roots, and am grateful everyday for those who keep the fire burning by bringing shy wolf into their homes to add light and fragrance to their routines and rituals. Thank you for being a part of the journey. I'm glad you're here.
- Julie Klukas, Founder of shy wolf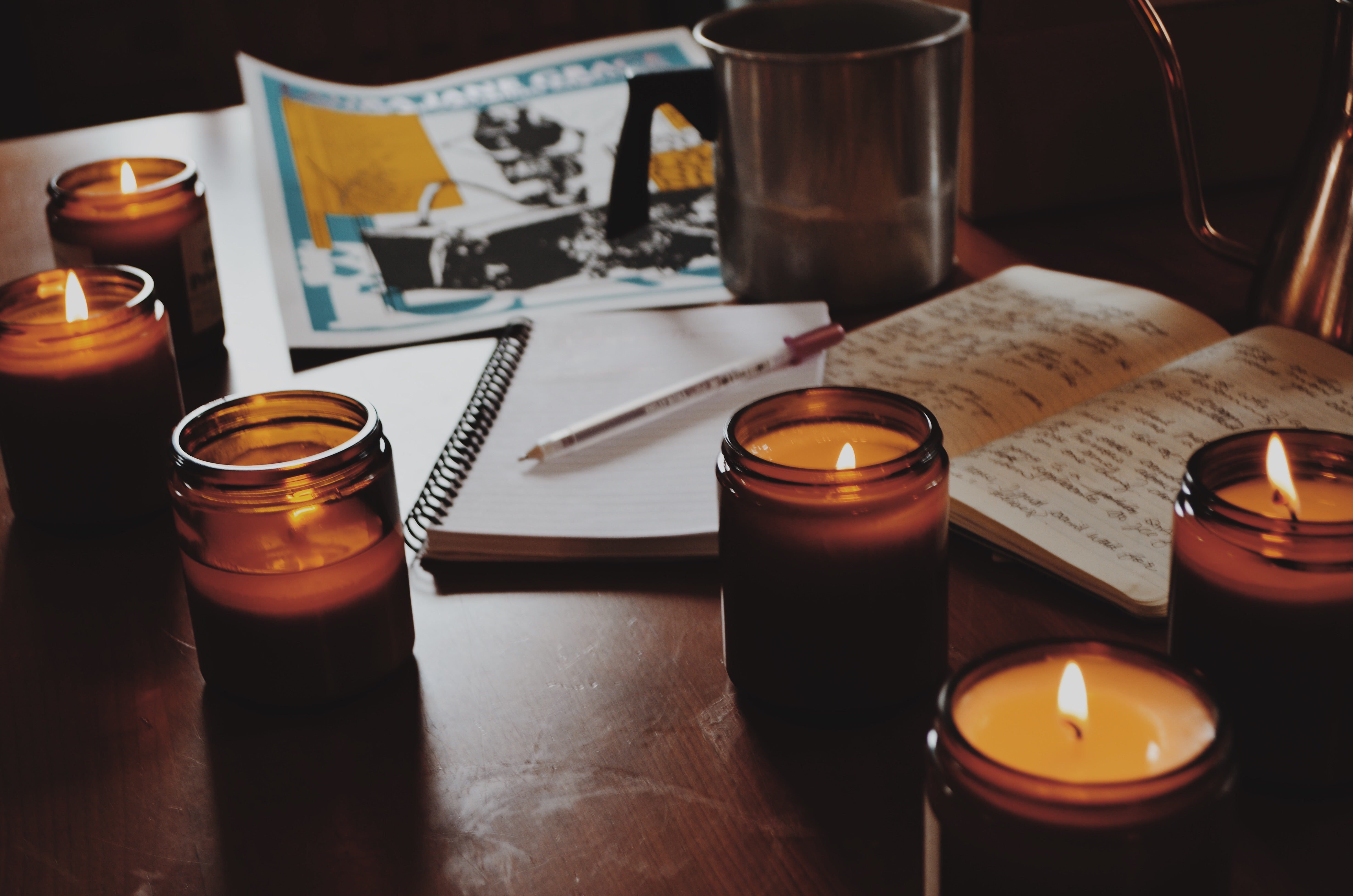 what's your signature shy wolf scent?
Discover the candle that's perfect for you
Ready to meet your new favourite candle? Answer six quick questions to receive recommendations we think you'll love.
Take Quiz